Fitness Tracking for the Privacy-Conscious
An introduction and review of the Garmin Instinct 2X Solar Tactical smartwatch.
I have been using the Apple Watch for a long time, starting with the Series 2 42mm that I bought back in 2016, followed by the Series 4 Nike+ 44mm that I got in 2018. Up until I permanently switched to an e/OS phone in early 2022 and ultimately to a Pixel 6a running GrapheneOS later that year, the Apple Watch was my daily companion that I used primarily for its health and fitness features. I explicitly disabled most notifications and uninstalled all apps apart from the pre-installed ones, because I dislike push notifications with a passion.
I used the Apple Watch for every workout – and during that period I worked out a lot. I ran a 10k every other morning and lifted weights five times a week. And I wanted to make sure I hit the right heart rate zones and don't go either too easy nor too hard. The Apple Watch admittedly offered valuable insights into my workout data, allowing me to measure my advancements and ultimately hit my goals more effectively.
While I found the insights into my health and fitness data extremely useful, it always came with a bitter taste of giving up my privacy. When you use an Apple Watch, Apple basically knows where you are and what you do, 24/7. They know when you're awake and when you are asleep, they know how much you move during the day and where you go on a regular basis. If you choose to use Apple Pay, they also know that the five minutes walk you just took was solely so you can go to a place that sells cakes that go by the name Death by Chocolate. They know when you wash your hands, when you go to a crowded and noisy place and when you're intimate with someone. Whenever you have the Apple Watch on your wrist you're basically offering big tech a detailed and intimate glimpse into your life. For free. In fact, rather than them paying you, they flipped the narrative and made you pay them – for the device, and for the subscription to useful services like Fitness+. And because it's likely that Apple has your credit card information attached to your Apple ID, they know exactly who you are. You're not only an anonymous individual feeding data into their service, instead you have a name and credit information connected to your account. This holds true for Google, Samsung and other smartwatch manufacturers alike.
Not only did I eventually grew tired of this surveillance capitalism, I also started getting increasingly frustrated by all the little things that bugged me about the Apple Watch in first place: The notoriously bad battery life, the awkward aesthetics, the fragility, the cumbersome usability (big fingers on a tiny display), the fact that it is virtually impossible to use as soon as a few drops of rain hit the touchscreen, the fact that it is impossible to use with gloves on, and so on, and so forth. There were many things that just didn't really ever work for me.
At some point I began looking for an alternative. While I didn't want to deal with all the downsides of Apple's smartwatch any longer, I nevertheless was interested to get insights into vital data, especially for times when working out or when falling sick. While I was ogling Garmin's smartwatches for a long time, none of their devices really convinced me until this year's release of Garmin's Instinct 2X Solar Tactical Edition smartwatch. I managed to snap up one back in August and have been using it 24/7 ever since.
Tl;dr: It's everything I was looking for in a functional smartwatch that would provide me detailed insights into my health data without selling me out to either Google, Samsung or Apple. The watch can be operated without any smartphone connection whatsoever, but unfortunately it does not allow to easily retrieve its data. In the past, Garmin watches used to allow this via a USB mass storage connection. Also, in order to get truly insightful data (e.g. HRV status, or training readiness), the Garmin Connect app (and hence the use of Garmin's cloud) is a must. It is however possible to sign up on Garmin's cloud platform using random info and the app still works even without allowing it access to e.g. the phone's location, notifications, calendars, and so on. Using a privacy-centric smartphone like a GrapheneOS device allows for imposing additional limitations on the Garmin Connect app, making it at least a little less privacy-invasive. Unfortunately however there's no way to sync the watch data and get valuable insights from it using solely open source software, yet.
Basics
The watch has a rugged and rather bulky aesthetic, similar to the Casio G-Shock watches. Its physical size is 5cm x 5cm x 1.47cm, it weighs 67g and, according to Garmin, it fits wrists with a circumference of 14.5-22.8cm. It comes with Garmin's 26mm Quickfit watch band, made out of silicone. The lens is some proprietary material dubbed Power Glass, the bezel and case are made of fiber-reinforced polymer and the watch is rated for up to 10 atmospheres.
The only color options available for the Tactical Edition are Black and Coyote Tan. While I was initially tempted to go with the Coyote Tan colorway, I ultimately opted for the black one for it being easier to combine with different watch bands and outfits. If you're however happy to go with the Standard edition of the 50mm watch, you can pick from more colors (Graphite, Flame Red, Whitestone, Moss) – none of which were particularly attractive to me.
Hint: The main differences between the standard and the tactical editions are the colors, as well as the tactical variants offering a stealth mode, a night vision mode, dual grid coordinates and – probably the most important feature for me – a kill switch. If you're looking to have any of these features you might want to pick the tactical edition over the standard one.
The Garmin Instinct 2X works in either standalone mode – meaning, without a connection to a smartphone – or paired to the Garmin Connect companion app on either iOS or Android. One big flaw with the Apple Watch, that was fixed only a while ago, was the fact that you would need an iOS device in order to use an Apple Watch. The Garmin watch on the other hand works perfectly fine without a phone or internet connectivity. For upgrading the firmware in standalone mode a computer is required, though.
Garmin Connect
Garmin Connect is the companion app that allows pairing your watch with your smartphone, in order to retrieve for example push notifications on your watch, or get the latest weather forecast via your phone's internet connection. Using the Garmin Connect app the watch can be configured on the phone, its firmware can be updated and it allows you to make use of the advanced reports generated in the Garmin Connect cloud.
However, the Garmin Connect app is frankly speaking a nightmare in terms of user experience. It contains dozens and dozens of sub-menus and settings, making it impossible to remember where individual configurations or even reports can be found. It also appears to basically be a glorified embedded web view for the Garmin Connect cloud website, since nearly every statistic appears to require a working internet connection to display any data whatsoever. On top of data, navigating through individual statistics takes time, as the app appears to be loading all info from the internet all the time. The concept of caching data or even views seems foreign to Garmin's developers unfortunately.
Another example where the bad UX is especially noticeable are settings. I'm regularly changing the wrist that I'm wearing the watch on and need to re-configure this inside the watch. While I have learned to navigate the watch relatively fast – even though its UX is also pretty bad – I cannot seem to be able to remember the sub-menu that I have to go into in order to change this setting in the Garmin Connect app. One reason for that might be, that there are two areas to change so called user settings: One under the watch's tab, in Settings and User Profile; The other one under More, Settings, User Settings. Both areas allow configuring things like age, gender, height and weight, but both areas also contain differentiating configurations, like Weather Location and Sleep settings, or Heart Rate & Power Zones. Only the User Profile menu under the watch tab allows configuring the wrist, though.
It's similar with other menus and settings. Overall the app seems very flimsy and not put together with care. It appears rather utilitarian and quick 'n dirty, than user friendly. Many UX choices are questionable at best and the UI is sluggish and unpleasant to use.
One major complaint I came across online appears to be connectivity. Unlike many people reviewing the smartwatch on various shopping sites, I did not experience any connectivity issues with the Garmin Instinct 2X whatsoever.
For everyone running a custom Android ROM it might be worth mentioning that the Garmin Connect app works without Google Play Services. However, it won't be able to display maps (e.g. for recorded outdoor activities) nor allow you to configure weather forecasts on the watch. Other than that, however, everything works as it should – at least on GrapheneOS.
Display
The watch itself has a monochrome, sunlight-visible, transflective MIP display with a resolution of 176 x 176 pixels. It features an outer solar cell ring, as well as in-lens solar cells, allowing it to recharge through exposure to more-or-less direct sunlight. More on that in the charging part.
From a normal viewing distance the display looks perfectly good and probably better than you might imagine. Many people, including myself, seem to picture the watch looking somewhat like a 90s Gameboy display, with noticeable pixels and maybe even a yellow-greenish tint to it. This is not at all the case with the Garmin. The black pixels are a solid, deep black, while the white ones appear in a lighter gray color. The display backlight is relatively cool and hence bluish in color. Text smoothness for larger text is very good. The only areas where you can make out individual pixels are for example charts or dithered lines. Regardless of light conditions, readability is not an issue with this watch.
Having that said, the outer solar cells are very noticeable, unlike some of Garmin's marketing material might suggest. Unfortunately the area around the display isn't black, so that it could blend in with the background and the watch case, but instead has a redwood color to it. This makes it stand out fairly prominently. Unlike many reviewers on YouTube might claim, the different color of the solar cells is noticeable even in dimmer lighting conditions. This unfortunately bites into the overall aesthetics of the watch, making it look slightly less appealing.
Charging & Battery Life
Charging up the watch via the provided USB-C cable requires exactly 2 hours and 8 minutes on my watch, from 0% to 100%. The charge is relatively linear, with 50% after roughly one hour. On a 50% charge, with the battery saver turned on, the watch reports a runtime of 27 days. A charge of 90% gets 50 days.
At 100%, with the battery saver turned on, the Garmin reports 55 days of battery life. With the battery saver off and all features cranked up to the maximum it reports between 16 to 18 days.
Bear in mind that these values will vary significantly, depending on your daily use of activity tracking and GPS.
Garmin specifies the battery life for the watch as following:
- Smartwatch: 40 days; unlimited with solar*
- GPS: 60 hours; 145 hours with solar**
- All Satellite Systems: 40 hours; 65 hours with solar*
- All Satellite Systems + Multi-Band: 27 hours; 36 hours with solar**
- Max Battery GPS Mode: 150 hours; unlimited with solar**
- Expedition GPS Activity: 60 days; unlimited with solar*
- Battery Saver Watch Mode: 100 days; unlimited with solar*

*Solar charging, assuming all-day wear with 3 hours per day outside in 50,000
lux conditions
**Solar charging, assuming use in 50,000 lux conditions


However, my real life experience is that, with everything turned on – including the all day pulse ox measurement and the high precision MultiBand+GPS, the watch usually survives around two weeks before I need to charge it using its USB charging cable. Either that, or I enable the power saving mode while being outside in bright sunlight for a full day or two.
Note: The whole solar cell charging is a cool gimmick, but nothing to rely on. Even quite close to the equator, with an average of over 1700 sunshine hours per year I had to spend well above five hours in direct sunlight to notice any effect on the battery life. With power hungry features turned off or dialed back to less frequent updates (e.g. heart rate measurements) the effects might be more noticeable.
Features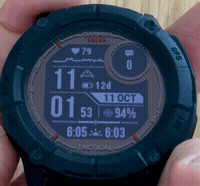 The watch has all the basic features you'd expect from a modern watch: It tells the time and date – which it syncs via GPS, so that it can automatically adjust for DST – it has an alarm clock, a timer, a stopwatch and it even shows sunrise and sunset times. On top of that, the Instinct 2X can use its GPS/GLONASS/Galileo sensor for multi-frequency positioning, making it possible to accurately track walks and runs using only the watch. It also contains a barometric altimeter, a compass, a gyroscope, an accelerometer, and even a thermometer, which allows the watch to track for example climbed floors, the current temperature, orientation, and the current altitude.
When connected to a smartphone using the Garmin Connect app, the smartwatch can display app notifications and it makes use of the Bluetooth/ANT+ connection to sync calendar events and weather forecasts. When connected to a phone, the Instinct 2X can also control the music currently playing on the phone, but it doesn't support storing music on the watch and listening to it via Bluetooth headphones – a feature many Apple Watch users find useful during workouts.
The Garmin supports Garmin Pay, which works in a similar fashion to Apple's and Google's payment service. However, this feature requires the Garmin Connect app and a bank that supports Garmin Pay.
Some of the most important features for me are solely available on the Tactical Edition: Stealth mode, dual grid coordinates, and the kill switch.
One unexpectedly useful feature to me has been the integrated flashlight, that can be turned on by double pressing the CTRL button, which, when single pressed, turns on the display backlight. The flashlight is surprisingly bright and can illuminate the surrounding area fairly well. I found myself using it whenever I'm walking through relatively dark areas, as well as when waking up at night to head to the bathroom. While every smartphone these days has a similarly good integrated flashlight, it's still more cumbersome to have to find and pick up the phone in quite possibly total darkness, then fiddle with it to turn on the flashlight, only to end up having one hand occupied with holding it. It's the same with dedicated flashlights in people's EDC kits. Having a flashlight integrated in a wrist watch keeps both hands free and makes it always available, whatever might happen.
The watch has an integrated motor for vibration and a speaker that is used for notification and alarm sounds. I have the sound – and vibration – turned off for everything but alarms and timers. I also keep vibrations on for the periodic move notifications the watch shows.
I didn't yet have the chance to validate the Instinct 2X's waterproofness to up to 10 ATM, but I submerged it into all sorts of different liquids – e.g. chlorine water in pools, soap water during washing hands, Clorox during cleaning, or spilled hot coffee every once in a while – and I often shower with. So far liquids haven't been an issue for the polymer case.
In addition, the material seems to be scratch and bump resistant, as I sometimes snag it on door handles and the like but haven't gotten any visible damages on the watch so far. What the Instinct 2X seems to be having issues with is dust and sand, which regularly get stuck on the textured bezel, as well as in the area where the glass meets the bezel. The textured surface is especially hard to clean, making the watch often look a bit busted.
Workouts
In regards to activity tracking, the Instinct 2X has everything modern smartwatches offer: A step counter, alerts for when it's time to move after a period of inactivity, automatic activity goal adjustment, that learns the activity level and assigns a tailored daily step goal, and all the guesstimates like burned calories, and climbed floors.
The watch supports different activity profiles for tracking workouts and sports, some of which are strength training, HIIT, general cardio, elliptical training, stair stepping, floor climbing, rowing, boxing, martial arts, yoga, hiking, biking, swimming, snowboarding, and more. With one of the latest updates, Garmin also introduced the possibility to set up training plans and have the progress tracked on the watch. While the automatic reps counting is surprisingly accurate, I nevertheless use the manual mode to avoid accidental starting of a set during a strength workout.
I'm mainly using the strength, walk, boxing, jump rope, HIIT, and cardio profiles. One other profile that I'd like to use but is not available is a skateboard profile.
While a profile is active, dedicated info segments are displayed on the screen. The info segments for every profile can be customized, so that for example walk shows the traveled distance and pace prominently, while boxing displays the heart rate and zones. It is also possible to have the watch automatically scroll through different segment views.
Controls for every profile are more or less the same. They are however somewhat cumbersome to use, especially during strength workouts, when the weight changes significantly (e.g. in between different exercises). However, it is this additional info that can be provided during a workout – reps and weight for example – that is the biggest differentiator between the Garmin and the Apple Watch. On the Apple Watch I was never able to clearly see a split between active minutes and inactive (rest) periods. The Apple Watch basically kept on measuring and displayed the workout as a single, 40-minutes long session at the end. The Garmin however actively differentiates between sets, reps and rest, which is a big plus.
When paired with Garmin Connect, workouts can be viewed and edited within the app. It is possible to edit sets to specify the type of exercise that was performed, in order to get more detailed information about the impact of the workout. To my surprise however, Garmin matches many of the body weight exercises that I'm performing correctly, all by itself.
Insights
The Instinct 2X can measure wrist-based heart rate – or connect to a chest strap for precise measurements – as well as the respiration rate and blood oxygen saturation. It can also track sleep, respiration rate and of course daily activity. Based on these metrics, Garmin offers insightful info like the HRV status, stress levels, training readiness, body battery, fitness age and many more. However, many of these advanced insights are only available when the watch is set up with Garmin's companion phone app (Garmin Connect), which in turn syncs all the watch data to Garmin's cloud. More on that in the privacy part.
An overview of all the features with detailed descriptions can be found on the Garmin website. Keep in mind though, that not all features listed there are available on the Instinct 2X (yet?).
As for the accuracy of the measurements, I found the Garmin to be as accurate as the older Apple Watch model that I had before. Especially in regards to the heart rate it appears that the Garmin is more accurate, partially due to more frequent measuring intervals. I do not (yet) have a chest strap to compare the deviations in heart rate, but when wearing both watches at the same time the Garmin seemed to outperform the Apple Watch in terms of data quality. This might be different with newer Apple Watch models, which according to various sources on the internet sometimes appear to record more accurately than the Garmin. I was unable to compare for example blood oxygen measurements and VO2 max values, because my Apple Watch does not have these features. Looking purely at the data the Garmin records, however, these things appear to be slightly off from time to time. This might be due to a more relaxed and loose wear of the watch, making it harder for the sensors to record accurate values. However, if peak accuracy is desired, a wrist watch might not be the best option in the first place.
Privacy
Finally, let's get into the privacy topic. As mentioned before, the availability of individual insights depends on whether the watch is set up using the companion app or as a standalone device. I tried a few things, like setting up the watch with the Garmin Connect app but disabling its access to the internet. Unfortunately it seems like some of the most valuable insights, like HRV status, are calculated in Garmin's cloud rather than on-device, making them unavailable without access to the internet.
It goes as far as the app not even displaying any data whatsoever when there's no internet connectivity – not even the data it had previously recorded.
Unfortunately Garmin has stopped offering the base metrics as text files that could be downloaded from the watch via USB mass storage connection. Older watches allow to do so, but after checking the manual and double checking with Garmin's support, it seems like this feature was removed. This means that getting data off the watch is solely possible via Garmin Connect or Garmin Express – neither of which seem to be doing a lot more with the data than transferring it to Garmin's cloud.
The watch itself however seems to hold on to the calculated data for some amount of time, as even without internet connectivity it is able to display a week of HRV stats for example. The insights on the watch are very limited, though, and by no means comparable to the detail displayed in Garmin Connect.
Long story short, if you don't want your data to leave your device and you don't need more advanced health insights, then this watch can work for you – although it might be too expensive for the features it offers without Garmin Connect.
If, however, you're looking to get advanced insights from your sleep, activity and health data, then you'll have to use the Garmin Connect app and send your data to the cloud. As of today, there are no open source projects that would allow you to extract the data yourself and ideally use it to generate all the advanced reports that Garmin provides. I assume that even if someone would reverse engineer the USB or Bluetooth connection to extract data from the watch, it would be of little use without the algorithms that Garmin's cloud uses to guesstimate things like training readiness, sleep scores, fitness age, and many of the other advanced insights.
Hint: It is possible to create an anonymous Garmin account and disable location access for the Garmin Connect app, as well as avoid using features that would identify the person using that account (e.g. Garmin Pay). On a privacy-centric device like a GrapheneOS Pixel phone, the app's access to the internet can be restricted to only using a VPN or Tor connection. However, the data will still be processed on the Garmin cloud nevertheless. Also keep in mind that the watch itself will track your location (e.g. during walks) and upload that data to Garmin. Hence solely denying access to your location on your phone won't help much, as Garmin would still be able to get that information from the watch data.
Data
Speaking about data, Garmin Connect allows exporting uploaded data via the web interface. The FAQ describes multiple ways to do so. What Garmin does not mention, however, is that for example for the reports, it's not possible to export HRV Status, or Training Status. Generally, however, Garmin allows downloading all the uploaded raw data using their data export request form, similar to e.g. Google's Takeout.
As mentioned before though, this is only possible through Garmin Connect and not via USB or Bluetooth from the watch itself. If you decide to operate the watch without using Garmin Connect, it will store all recorded data on its 64MB onboard space, until it runs out of space, which is when you will have to go into the activity history and delete activities.
While the watch can definitely be used without a connection to a smartphone or Garmin's cloud, it's quite obvious that Garmin is making it less and less attractive for people to do so, and is pushing their customers to use Garmin Connect. Even though there have been attempts to reverse engineer Garmin's products and somehow make the data available without the necessity for Garmin Connect, it looks like most of these efforts were rather unsuccessful and not overly active. So unless Garmin should decide that it'd be better for everyone if they'd be offering an open protocol or at least proprietary libraries to easily connect to their devices, the data generated by the watch will either stay on the watch or have to go through the Garmin cloud.
If, however, you don't mind doing so, there are a handful of projects that can assist with pulling your data from the Garmin Connect cloud and processing it locally. GitHub is generally a good place to find more projects related to Garmin's API and their watches.
Verdict
Ultimately the Garmin Instinct 2X Solar Tactical Edition is the least worst option when it comes to insightful activity and health tracking. It offers basic metrics without requiring cloud connectivity. It can provide more advanced insights by using Garmin's cloud service, ideally with limited permissions and an anonymous account that doesn't give away too much info on the real person behind the data. While this is less than ideal from a privacy perspective, it unfortunately seems to be the best option around these days. If you are looking for a rugged, outdoorsy smartwatch that can give you all sorts of insights into your vital data, that can be used 100% privacy-friendly at the expense of more detailed metrics, that has great battery life and can charge itself through sunlight under certain conditions, then the Instinct 2X might be something you might want to have a closer look at. I, for one, will stick to it for the time being, even if that means disabling cloud connectivity and hence downgrading the insightful data. Eventually a frustrated hardware hacker might have the motivation to try and reverse engineer the protocol, so that at least all available raw data could be pulled off the watch without the need for Garmin Connect.



Enjoyed this? Support me via Monero, Bitcoin, Lightning, or Ethereum! More info.

collections [ journal ] · tags [ open-source hardware health privacy ]
published [ ] · updated [ ]